We Are Having a Mexican Mural celebration Sunday July 10th at 7:30 With Food From El Alamo Restaurant.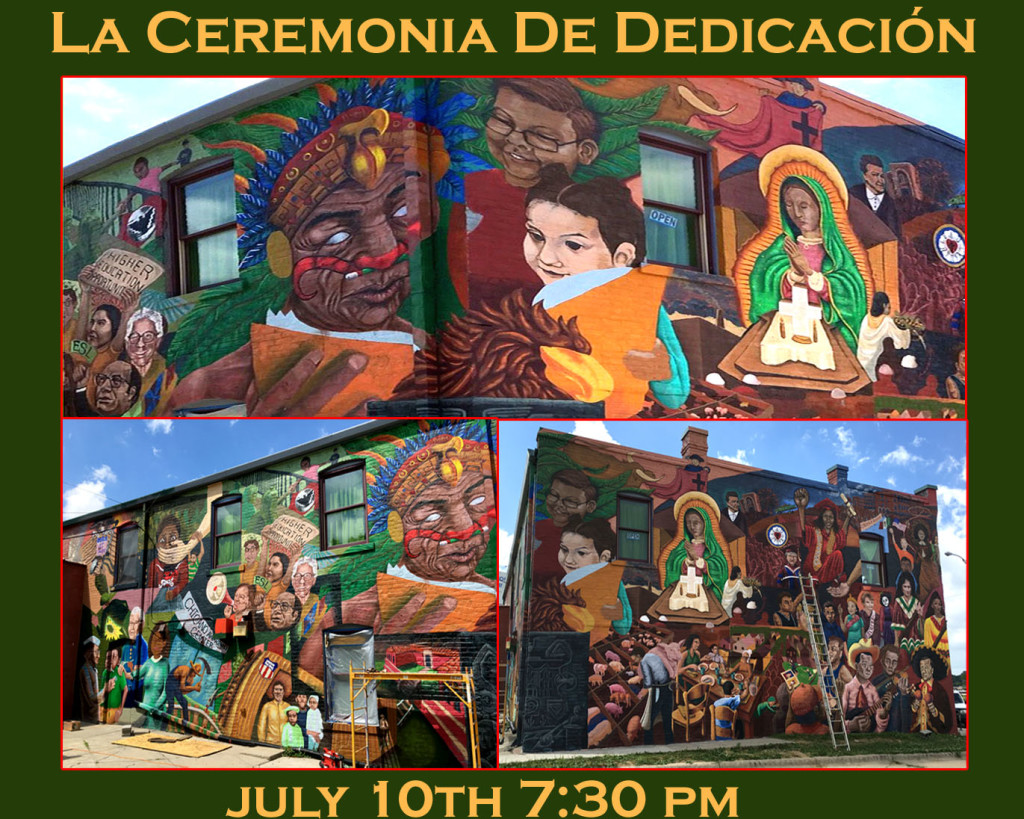 The mural that will be celebrated Sunday on the El Mercado building (4907 s. 25th st.) is a beautiful result of "the people's art."  It was the result of many people of the Mexican American community of South Omaha coming together to share what matters to them: who they are, what they stand for and how do they want to be remembered.  We had eight community meetings.  Four of them for sharing stories and ideas and four of them for shaping them into a design. We were invited into people's homes to look at scrap book after scrap book of newspaper clippings and old photos.  We were treated to great home cooked food and had great conversations.  We heard a lot about children and how the older generation was focused mostly on making it possible for their little ones to have a better life.  We also heard about resistance to people of Mexican ancestry.  How during the past many were not encouraged to pursue college careers or to worship in their own language.  How even soldiers of Mexican ancestry were not welcomed into veterans groups after serving their country. We listened in groups of all ages as grandparents told what working in the packing plants was like and how Mexican immigrants worked against the odds to create places of worship, food pantries, health programs and social gathering places.  Quite a lot of individuals stood out as having sacrificed their time and resources to make South Omaha a better place to live.
We had a call for artists from the Mexican community to have paid leadership roles in the mural and we had 9 talented artists apply.  We planned to hire two of them but because there were so many talented individuals apply we hired six of them.  The South Omaha Business Association chose Hugo Zamorano as lead, and Gerardo Vazquez as apprentice.  Richard Harrison, who usually plays a leading role in our other murals stepped aside from much of the paintwork on this project to allow us to hire Ian and Jair Rodriguez, Aaron Olivo and Daniel Castaneda.  The team gathered daily for a week to sketch together and then present the sketch to the community for their approval.  We then had a couple of projection nights. We had families join us and people of all ages tracing the images with chalk on the walls.  Then we had paint days during the Cinco De Mayo celebration.  That allowed us to have a great connection to the community as we connected with the Mexican music and festivities of that amazing event.
It has taken two months to take the time to work and rework the images in the mural to have the best possible effects.  We have enjoyed having many come by to encourage us on our work.  We are looking forward to the celebration and having a chance to talk once more about the amazing people and places we tried to depict in the mural!  Once we are done with the Mexican Mural we are not resting.  Tuesday the 14th and Thursday the 16th are projection nights for the Polish Mural that will be painted on Dinker's Bar at 2368 S. 29th st.  And we will have a community paint day on Saturday the 16th from 4-8 pm.  We hope to see a lot of South Omaha join us for these experiences in the next week!
We want to thank the South Omaha Business Association for partnering with us on the Mexican Mural and the South Omaha Neighborhood Alliance for partnering with us on the Polish Mural.  Funding for both murals has come through the Nebraska Arts Council.  The Mexican Mural received additional funding through the City of Omaha Historical Grant, and the Omaha Mayor's Grant as well as the South Omaha Medical Association and El Mercado Inc.  The Polish Mural received funds from the Polish Home inc. and others.